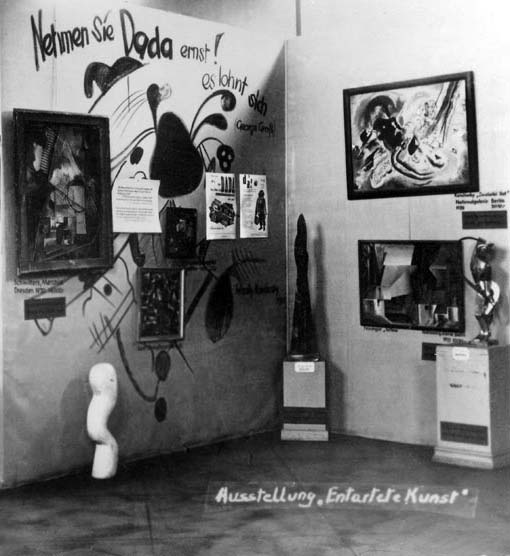 3D RECONSTRUCTION
OF THE 1937 EXHIBITION Entartete Kunst
3D MODEL
Historical photographs, video footage and documentation of the Munich exhibition were used to construct a 3D virtual model harnessing the latest in design software and VR technology.
360° PANORAMA
360° panoramas of each of the seven upper rooms of the Institute of Archeology in the Hofgarten, where the first stage of the exhibition took place in Munich.
VIRTUAL REALITY EXPERIENCE
The virtual reality experience features a binaural audio commentary on the artworks and a fully interactive experience of the exhibition. The installation includes four copies of paintings produced by Adolf Hitler during the four years he practiced as an artist in Vienna
Degenerate Art
THE NAZI IDEA OF CULTURAL DECAY
One summer's day in 1937, Hitler's favourite artist, Adolf Ziegler, gave a speech in his role as president of the Reich Chamber of Fine Arts at the opening of the most shameful exhibition in the history of art. "You see around us monstrosities of madness, of impudence, of inability and degeneration," he said, referring to around 600 works of art, including paintings, sculptures, drawings and prints, which he had helped to select for the infamous 'Entartete Kunst', or 'degenerate art', exhibition that the Nazis staged in Munich. "What this show has to offer causes shock and disgust in all of us." (Sooke, Alastair. "Degenerate art: The art the Nazis hated" 2014)
Adolf Hitler:
REJECTED FROM THE ACADEMY OF FINE ART IN VIENNA
TWICE
HITLER'S ASPIRATIONS AS AN ARTIST
In his autobiography "Mein Kampf," Adolf Hitler described how, in his youth, he wanted to become a professional artist.
REJECTION
Hitler's ambitions of becoming an artist were thwarted by his failure to pass the entrance exam of the Academy of Fine Arts Vienna, once in 1907 and again in 1908.
VIDEO
HISTORY OF THE EXHIBITION
Adolf Ziegler, Hitler's favorite painter was tasked by the Nazi Party to oversee the purging of what the Nazi Party described as "degenerate art." The first stage of the exhibition took place in the Institute of Archeology in the Hofgarten, Munich. Works were hung poorly and often displayed without frames with accompanying derogatory slogans.