Artworks
Click on area of map to view artwork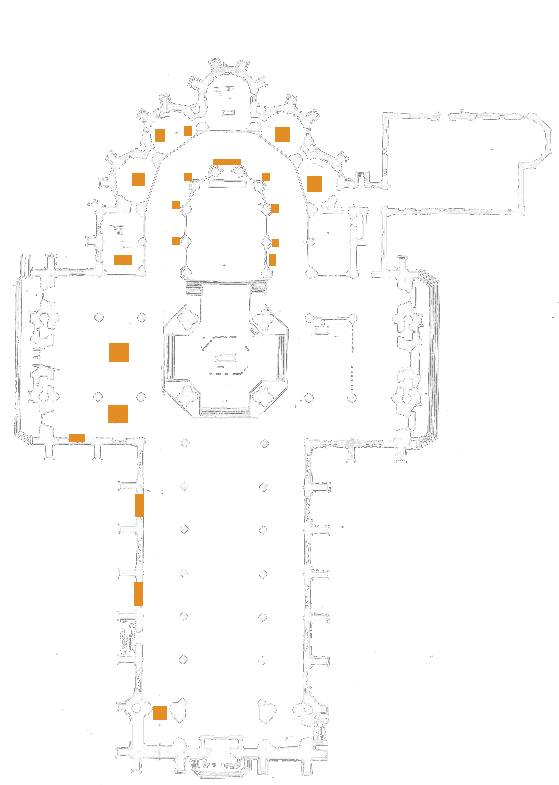 INTRODUCTION
It was Pope Paul VI who said that the split between faith and culture was the drama of our time. In another time, the Church was the great patron of the arts, and Christian faith an extraordinary source of artistic creativity. But things have changed. The Church still produces devotional art for its own purposes, and much of it is deeply evocative. Yet art, for the most part, has taken its leave of the Church and Christian faith, as has Western culture more generally. The search for meaning and beauty tends to follow other paths. For Christianity, the danger here is that it can find itself in a kind of billabong in which it can only repeat the forms of the past. It can find itself a stranger to the quest to forge meaning and show forth beauty in ways attuned to the deeper currents of culture today. But this cannot be the way of a Church called always to speak the word of Christ – ultimately meaningful, ultimately beautiful – in the idioms of today. At the heart of Christianity, there must be a creative tension between the forms of the past and the forms of the present, between devotional art and art that stands outside the circle of faith, between sacred space and the still resonant spaces created by art which, if not explicitly sacred, is clearly open to the transcendent. Such a tension will tend to subvert conventional and perhaps too-easy perceptions of meaning and beauty in order to bring to birth new perceptions which are more difficult and more revelatory. That is why this exhibition, Crisis, Catharsis and Contemplation, strikes the right note. It sets the tension and strikes up a conversation which may at times be unsettling but which can also be enriching, even enabling, both for Christian faith and for art.

Bishop Mark Coleridge
Auxiliary Bishop of Melbourne
ESSAY
"Art is born and takes hold wherever there is a timeless and insatiable longing for the spiritual." Andrei Tarkovsky

This "timeless and insatiable longing" has inspired twenty-two challenging, thoughtful and evocative works for display in two extraordinary locations. Their visual poetry opens an unexpected dialogue between contemporary art and the gothic revival Cathedrals of Melbourne and Sydney. For millennia artists have been bridging the invisible with the visible. Similarly, religious tradition has been witness to and reactivated the Divine mysteries which lie at its core. Religious tradition has been witness to the divine mysteries and constantly reactivated their meaning. The gradual forming of a chasm between the contemporary artist and the Church over an interminable period is rarely addressed in contemporary culture. Crisis, Catharsis and Contemplation comes at a time when the Church is in crisis, most contemporary art struggles to engage religion, and our visual contemplation of the sacred is desperately in decline.
......
Read more
Artist Conversation
The following is an edited transcript of a discussion between David Rastas, Robert Klein Boonschate, Lindy Patterson, and James Waller concerning the nature of sacred space in respect to the cathedral exhibition," Crisis, Catharsis, and Contemplation". The discussion was recorded in the artists' studios, with works in progress for the exhibition hovering around and resonating with ideas as they arose.

DR: My hope is that this exhibition will help us rediscover the Gothic space. Contemporary art in the Cathedral can help us to see with new eyes; this is not a game; the experience is potentially transformative.
LP: The space wishes to have that transformative property.
RKB: Yes, and it can only achieve that through public interaction.
DR: The viewer is invited into the heart of the space and it is in the heart that this encounter with the sacred takes place.
JW: We are elevated through the space
LP: It is a consecrated space; made so through ritual.
......
Read more
---
Crisis, Catharsis, and Contemplation
April – May 2006
St Patrick's Cathedral, Melbourne
Curator David Rastas
Curatorial Assistants Carly Housiaux and Ishmael Bryce
Catalogue Editor Brendan Rodway
Designer Miriam McWilliam
Contributors Bishop Mark Coleridge and Rosemary Crumlin
Artists Patrick Bernard, Godwin Bradbeer, James Clayden, Francis Denton, Clayton Diack, Robert Drummond, Angela Di Fronzo, Grant Fraser, Melissa Hawkless, Gerhardt Hoffman, Robert Klein Boonschate, Queenie McKenzie, Michael Needham, David Rastas, Patricia Semmler, Claudia Terstappen, James Waller